Members Aircraft
One aspect that makes ultralight aviation so attractive, and the fastest growing of any of the recreational aviation classes, is the extensive range of ultralight aircraft available.
Holbrook Ultralight Club (HULC) and its members cut their teeth on gr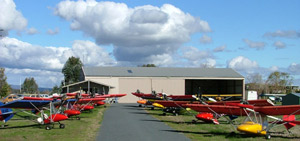 ass roots ultralight aircraft in the early days at a time when two seat training aircraft was not much more than a good idea and is proud to promote 9.10 and 95.25 types. This is evidenced by the this photograph that shows a lineup of Thrusters at a Club meeting in July 2004. Of course there are also many fine examples ot state-of-the-art ultralight aircraft within the Club membership.
The following is a sample of the aircraft owned and regularly operated by the members of Holbrook Ultralight Club. Click on the thumbnail for an enlarged photograph.
Aircraft: Bantam B22s
Wing Span: 9 metres
Length: 5.5 metres
Seats: 2
Owner: Max Brown
Engine: Rotax 582
Cruise: 60 knots
Aircraft: J-3 Kitten
Wing Span: 9.1 metres
Length: 5 metres
Seats: 1
Owner: Rod Dowding
Engine: Rotax 447
Cruise: 55 knots
Aircraft: RANS S6S
Wing Span: 10.5 metres
Length: 6 metres
Seats: 2
Owner: Peter Thurston
Engine: Rotax 912
Cruise: 75 knots
Aircraft: Hummel Bird
Wing Span: 6.4 metres
Length: 4 metres
Seats: 1
Owner: Dave King
Engine: Rotax 503
Cruise: 100+ knots
Aircraft: Aerochute
Wing Area: 34 square metres
Length: 1.7 metres
Seats: 2
Owner: Max & Isabel Brown
Engine: Rotax 503
Cruise: 35 knots
Aircraft: RANS S20 Raven
Wing Span: 9.2 metres
Length: 6.4 metres
Seats: 2
Owner: Andrew Vonarx
Engine: Rotax 912ULS
Cruise: 97 knots
Aircraft: RANS S19
Wing Span: 8.5 metres
Length: 6.1 metres
Seats: 2
Owner: Dave King
Engine: Rotax 912S
Cruise: 114 knots
Aircraft: Savannah
Wing Span: 9.0 metres
Length: 6.6 metres
Seats: 2
Owner: Don Shaw
Engine: Rotax 912S
Cruise: 90 knots
Aircraft: Thruster T85SG
Wing Span: 7.8 metres
Length: 5.2 metres
Seats: 1
Owner: John Harley
Engine: Rotax 503
Cruise: 55 knots
Aircraft: RANS S6
Wing Span: 10.5 metres
Length: 6 metres
Seats: 2
Owner: Richard Hopwood
Engine: Jabiru 2200
Cruise: 70 knots
Aircraft: J-6 Karatoo
Wing Span: 10.1 metres
Length: 5.8 metres
Seats: 2
Owner: John Harley
Engine: Subaru EA81
Cruise: 65 knots
Aircraft: Tecnam P92 Super Echo
Wing Span: 8.7 metres
Length: 6.4 metres
Seats: 2
Owner: Les and Marie LeFevre
Engine: Rotax 912S
Cruise: 100 knots
Aircraft: CA25N Gazelle
Wing Span: 9.5 meters
Length: 5.6 metres
Seats: 2
Owner: HULC members syndicate
Engine: Rotax 912A
Cruise: 80 knots
Aircraft: Jabiru LSA
Wing Span: 8.0 metres
Length: 5.0 metres
Seats: 2
Owner: Ian Dealy
Engine: Jabiru 2200
Cruise: 90 knots
Aircraft: Skydart 2S
Wing Span: 9.2 metres
Length: 6.0 metres
Seats: 2
Owner: Andrew Vonarx
Engine: Rotax 912
Cruise: 85 knots
Aircraft: Skyranger Jynja
Wing Span: 8.9 metres
Length: 5.9 metres
Seats: 2
Owner: Nigel Holloway
Engine: Rotax 912S
Cruise: 90 knots