Holbrook Airfield
How can I find Holbrook?
Holbrook is located midway between Sydney and Melbourne in the heart of the south west slopes of New South Wales, Australia.
Holbrook is 65 kilometres north of Albury, which is on the New South Wales - Victorian border, and is 75 kilometres south of Wagga. Holbrook is also located on the Hume Highway, which means that road travellers from the direction of either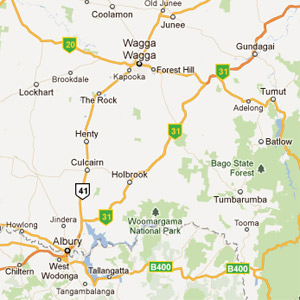 Sydney or Melbourne will have freeway conditions almost al the way.
Commonly known as the submarine town, Holbrook was named after a daring WW1 Royal Navy submariner Leut. Norman Holbrook in 1915 and boasts a significant number of district attractions for the flyer and non-flyer alike. Holbrook is close to the splendid upper Murray region, the Kosciusko National Park and the Rutherglen wine growing district.
Holbrook and its surrounding area provides ideal flying conditions for both the ab initio student and the seasoned ultralight or general aviation pilot. Holbrook is characterised by ideal flying conditions all year round and especially so in spring and autumn. This is an important consideration when you are trying to decide where to undertake your flight training, which ultralight club to join or where to base your ultralighting activities. Give Holbrook Ultralight Club a try ..... you won't be disappointed.
Being able to rely on the weather has enabled the offer of a range of full time training packages to get you flying quickly and economically. For further information see the Flight Training page or contact Holbrook Ultralight Club. For current contact information please see the Contact Us page.
Holbrook Airfield
Holbrook airfield is located five kilometres north of the Holbrook township along the Wagga Road (turn off at the 'plane on the pole' located at the northern end of town) and is ideally suited to ultralight aviation and ultralight pilots. The airfield has a 930 metre long main runway (04/22) and a 700 metre long cross runway (14/32). The runways are all weather and have a smooth crushed granite surface and the airfield has sealed taxiways, a good selection of tie down areas and hangarage options. The airfield runways and facilities are also well suited to general aviation (GA) operations and GA visitors are most welcome.
If owning your own hangar on your own land on an operational airfield is high on your wish list, a range of freehold serviced hangar and hangar/residential sites are available at Holbrook Airfield.
Holbrook airfield provides an ideal base from which to launch your ultralight flying activities. It forms an ideal gateway to southern and western NSW, northern Victoria and the southern alpine areas. The airfield is surrounded by open pasture and the sky above is uncluttered, which means no lengthy delays at the threshold and no heavy circuit traffic to negotiate. All this adds to the pleasure of your flying experience at Holbrook.
If you fly an ultralight or GA aircraft you are most welcome to fly into our airfield. It doesn't matter if you fly individually or as a group or a club, come and enjoy the hospitality of Holbrook Ultralight Club. If you are planning a trip into Holbrook, please provide advance notice by contacting the Club to enable arrangements to be made.
Pilots flying into Holbrook should be aware of the extent and proximity of Albury Controlled Airspace (CTA). For further information refer to the Canberra/Albury Visual Terminal Chart (VTC). Albury CTA is active at all times when the Albury Control Tower is operational, typically seven days per week. For further information refer to the current ERSA. Also note that Albury Control Tower's operational hours may alter at short notice.
Holbrook is well serviced by a range of good country style hotels and motels at very reasonable rates, a caravan park and a good selection of restaurants and take-away diners. The township also provides good shopping facilities for all your provision needs, competitively priced petrol stations and a range of sporting facilities.
Put Holbrook on your list of must see destinations - you won't be disappointed.